SATSLINK: Multipurpose Communications Device by Coinkite
"Coinkite has announced their latest product, Satslink. The under-production device sits at the intersection of many different areas of communications and mobile hardware, empowering developers to build a whole slew of different applications," wrote Namcios for Bitcoin Magazine.
"At its core, Satslink is a peer-to-peer, hackable multi-purpose device. It features a secure element, as typical of Coinkite products, allowing the user to securely store private keys within the device."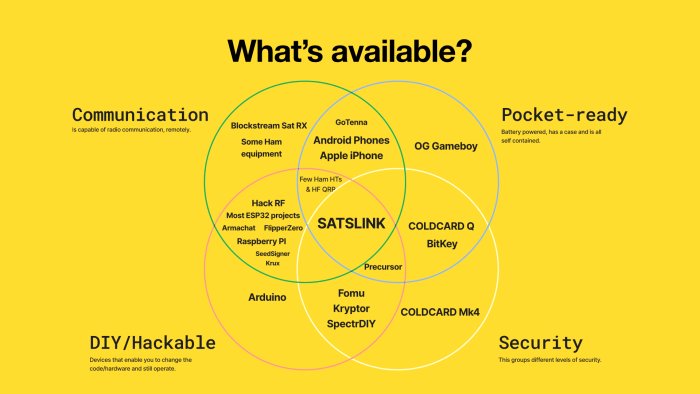 "Being dissatisfied with the connected and DIY options, we felt the need to create a better hot platform. Bitcoin is expanding scripting/mpc options and we now have Nostr. Someone had to make a good connected and portable device for developers and enthusiast to create the next generation of freedom functionality," NVK, founder at Coinkite, told Bitcoin Magazine.
"The initial target is developers and enthusiasts," NVK said. "But, because of the consumer friendly form factor, they will be able to start using anything the community creates. Like hot and sovereign lightning wallets and Nostr clients!"
SATSLINK is priced at $189.99 and is currently available for pre-order on Coinkite's store.
SATSLINK specifications
ESP32-S3 main CPU running at 240Mhz with 512k of RAM and 8M of flash (datasheet)
Wifi (2.4Ghz) and Bluetooth support
ESP-Now protocol for device-to-device radio, Internet access via your 2.4Ghz Wifi access point
320x240 colour LCD (IPS with wide viewing angle)
Full QWERTY keyboard
NFC tag emulation (NFC-V radio protocol)
QR scanner module (with light, dedicated co-processor for image processing)
RGB light for "message waiting" feature (top left corner)
Secure element for private key storage (Infineon Trust-M, with open documentation: SLS32AIA010MHUSON10XTMA2)
Powered by 3 x AAA cells, or USB-C port
Dedicated keyboard scanning chip to reduce CPU load
MicroSD slot for data transfer
Expansion GPIO and serial port for hacking/debug (includes all ESP32 programming connections)
Programmed in Micropython, all source fully-available; completely field upgradable with no locked-down ROM areas
Rugged plastic enclosure

Website
Bitcoin Magazine Article / Archive
LN+ Post / Archive